Facebook's crypto play edges Bitcoin price higher
Bitcoin has climbed above the US$9,000 mark, following news that multinational organisations Uber and Visa had backed Facebook's new cryptocurrency, GlobalCoin.
Last week several companies, including Uber, Mastercard, PayPal and Visa, gave Facebook the ultimate thumbs up; each investing about $10 million to join Facebook's Libra Consortium, to fund and govern the development of the social media giant's first crypto.
The investment seems to have sparked some renewed optimism in the crypto market and follows a series of other mainstream finance companies throwing their weight behind digital assets.
Bitcoin increased by as much as 7.4 percent last Friday, as reported by Bloomberg.
Bitcoin was trading at $9,006.55 in Asian markets this morning, up more than 130 percent in 2019.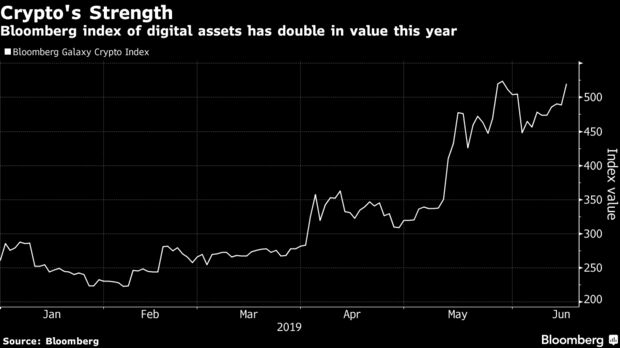 The optimism also appears to have spread to rival coins, with Litecoin up 5.9 percent and Ethereum up 4.5 percent.
Facebook's crypto is anticipated to be a stablecoin, pegged to a basket of government-issued currencies, a move it hopes will help avoid the extreme fluctuations that have plagued other digital currency values.
The social media network's crypto is expected to be launched next year.
There's also been reports that Facebook will give bonuses to those merchants that adopt Facebook's crypto.
Last year Facebook advertised several blockchain engineering roles, hiring former PayPal president David Marcus as the director of engineering within its blockchain department.
Support
Global payments company Visa has taken a liking to crypto and blockchain.
Beyond its investment in Facebook's crypto venture, earlier this month Visa launched its blockchain-backed payments network for business-to-business transactions, B2B Connect.
Click here to read the full story on Visa's B2B Connect.
Accounting firm BDO is another financial company that has seized an opportunity to branch out into crypto.
Last week BDO announced it had partnered with specialist blockchain firm Decentralised Capital to deliver auditing and assurance services to blockchain and cryptoassets.
Read BDO's full announcement here.
Services will include financial statement audits, controls assurance reports, anti-money laundering counter terrorism and fraud independent reviews, accounting advice and board governance support.
The first project to be audited by BDO will be gold-backed token xbullion, which recently received investment from ASX-listed blockchain company DigitalX.